Associate of Arts General Studies Online
Flexible courses that put you in control of your time and goals.
Apply Now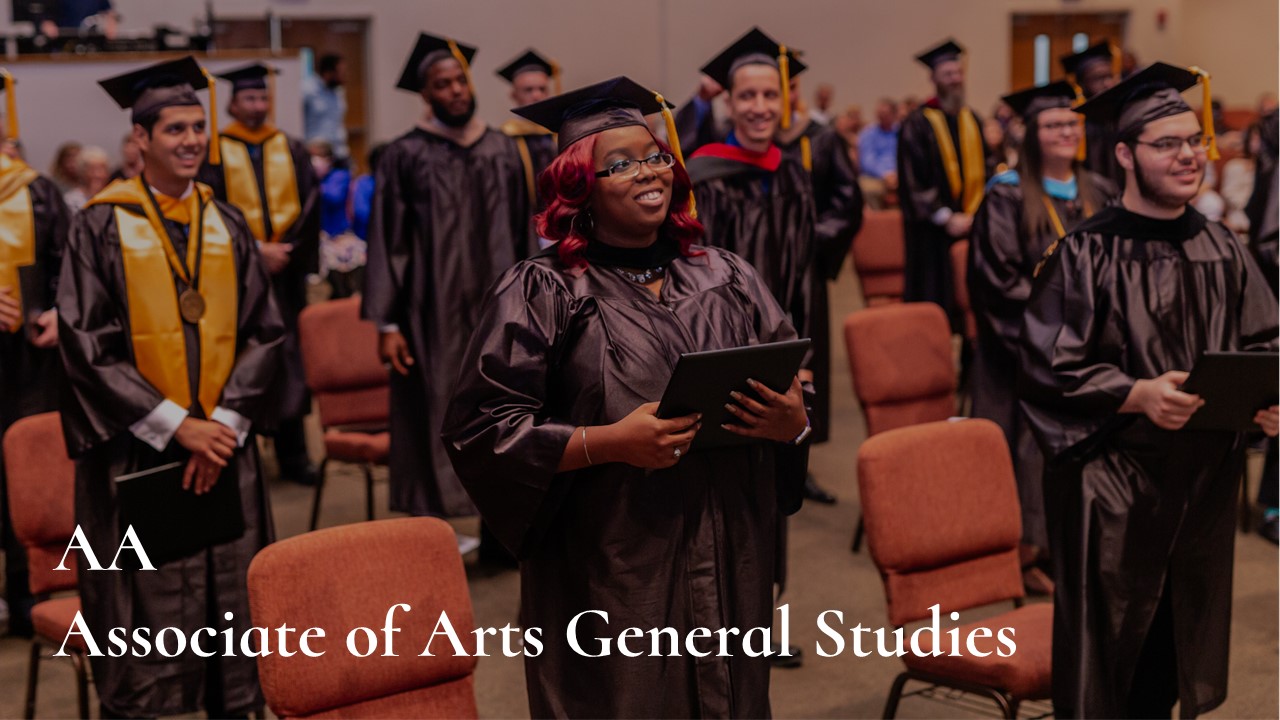 Foundational Courses.
Biblical Perspective.
Flexible Options.
Why earn an Associate Degree from a Bible college? Earning your AA from a Bible college not only gives you the foundational course requirements for your education-it gives you the biblical knowledge and application you need for life! An AA is the first two years of a four year degree. Once you have completed your AA degree, you will have earned the first two years of a four year bachelor degree. Some students' professional goals only require an AA degree, others earn an AA before entering college as a junior on campus to save money, there are many reasons to earn your AA degree.
Meet Your Academic Advisor
Dr. Krista Mallo
As the Program Director of the General Studies major, Dr. Krista S. Mallo will be your academic advisor and will guide you throughout your time as an online student. Dr. Mallo currently serves as the Advisor for the Associate of Arts degree in General Studies and Bachelor of Arts degree in Interdisciplinary Studies. Dr. Mallo is the Director of the Student Learning Center at Trinity College of Florida.
Education
Dr. Mallo earned her B.A. in English Literature (2001), M.A. in English Education (2005), and Ph.D. in Curriculum and Instruction (2020) at the University of South Florida. Her research interests include narrative methodologies, poetic inquiry, autoethnography, and self-directed learning.
The Associate of Arts degree in General Studies is designed to give students valuable preparation for further studies, by providing them with introductory general studies courses while helping them develop a foundational Biblical perspective. Students successfully completing this program will demonstrate:
A general knowledge of the content of Scripture.
College-level competence in the general skills that form the foundation for all learning: reading, writing/composition, and critical thinking.
Introductory knowledge of Western culture integrating themes from history, science, philosophy, or literature.
All of the following requirements must be met in order to graduate and receive an Associate of Arts degree in General Studies from Trinity College:
Satisfactory completion of a minimum of 60 semester credit hours with at least a 2.0 cumulative grade point average including completion of the Associate of Arts curriculum, Chapel, and Christian Service requirements.
The final 30 credit hours and at least 50% of all major courses credit hours must be completed in residence at Trinity College.
Satisfactory completion of all Trinity College assessment procedures.
Continued evidence of a consistent, genuine, Christian testimony.
Continued essential agreement with the Doctrinal Statement of the College.
Satisfactory fulfillment of all financial obligations to the College. No degree will be granted or transcript provided to a student with an outstanding financial obligation to the College.
Affirmative recommendation for graduation by the faculty, Vice President for Academic Affairs, and the Board of Trustees.
First Year Fall Semester – 15 credits
Second Year Fall Semester – 15 credits
First Year Spring Semester – 15 credits
Second Year Spring Semester – 15 credits
Answers to Your Questions About The AA in General Studies Online
Getting information and making your college decision can be difficult. We are happy to walk you through everything from enrollment to the financial aid process.