Meet Coach Coco
Dominic Coco has over 14 years of coaching experience which started in the state of New York where Dominic is originally from. He started his coaching career as a youth coach at Empire United. He quickly expanded his talents to high school and was a volunteer assistant at his alma mater Roberts Wesleyan College. Dominic currently holds a US National Coaching D License.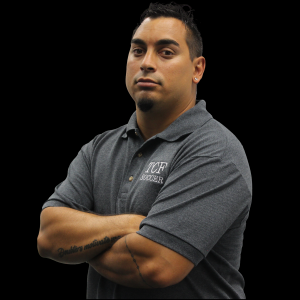 As a college athlete at Roberts, Dominic was a 4-year player, earned All Region honors and was an All-American his senior year. Dominic and his team won the AMC Conference Championship and also competed in the NCCAA National tournament during his Freshman and Senior seasons. After college, Dominic went on to play professionally in the Major Arena Soccer League playing for his hometown club Rochester Lancers, the same franchise his grandfather played with in the late 60s. After Rochester, Dominic signed his second contract with the Detroit Waza Flo under Dominic and Mario Scicluna. It was against the Harrisburg Heat that Dominic scored his first professional goal.
Dominic and his wife Nancy moved to Tampa, Florida in the summer of 2017, where Dominic became a PE school teacher and Varsity boys soccer coach at Lennard High School. Dominic went on to make Lennard school history as the only boy's soccer coach to make it all the way to a District Finals appearance. Dominic then took over the Head Coaching role at Springstead High school this past season where he was named District 10 5A Coach of The Year and won double-digit wins, the first time in 8 seasons for the soccer program.
Dominic started his college coaching career in Florida working under former Head Coach Robert Rivers III as an assistant coach at Trinity College of Florida this past season. Dominic was named the new Head Coach this past April. Dominic is determined to make TCF Men's Soccer a powerhouse on and off the field while honoring our Lord and Savior Jesus Christ.
Dominic and his wife Nancy Coco currently reside in Port Richey Florida with their Chihuahua named Norman. They are also expecting their first child in late January 2023.