Chasing the Call
Trinity College of Florida is an accredited Christian Bible College dedicated to equipping you for Kingdom influence.
Schedule A Visit
God Calls.
We Equip.
You Advance.
Founded in 1932
Trinity College of Florida is a private, nonprofit accredited Christian Bible college located on the Gulf Coast in Trinity Florida. Established in 1932 by founder Dr. W.T. Watson, our school's mission is to "provide a biblically-centered education, equipping servant leaders for life and career opportunities." Trinity College of Florida has a long legacy of a family-like atmosphere focused on individual development of Christian leaders for every context of life. We are distinctly evangelical but also interdenominational. You will leave here equipped to advance the gospel wherever you are called.
"One reason for the high percentage of successful Christian workers produced by this school is that we are not so large that the individual gets lost in the crowd. Students are individuals, not a number, and each one is able to have individual help so that they may grow, not only in intellect but in spirit." – Dr. W. T. Watson, Founder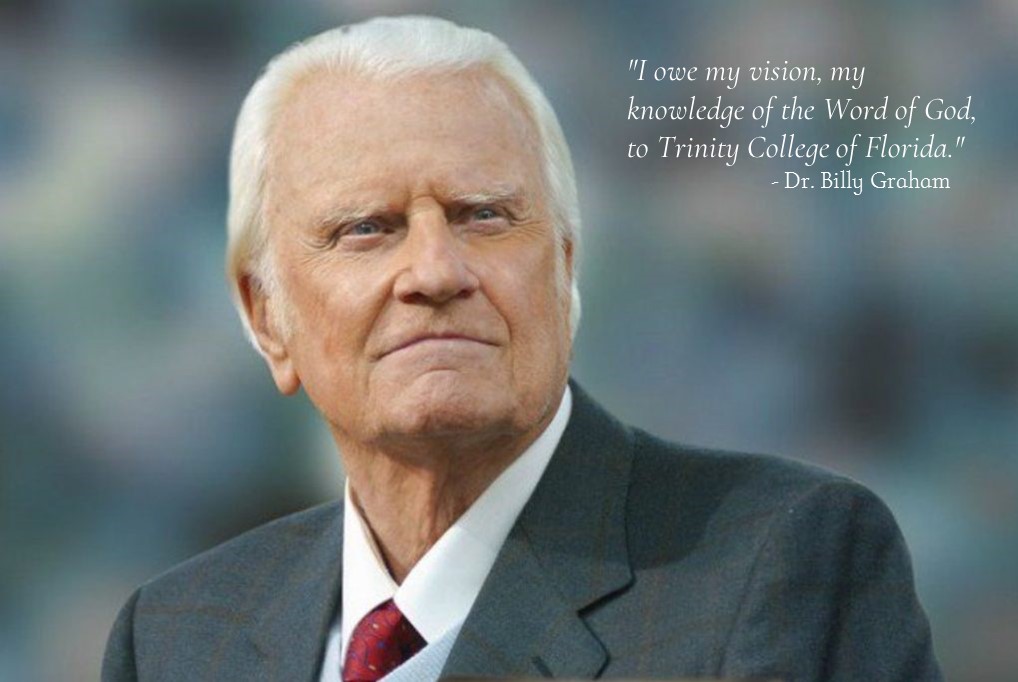 Following God's Call
Dr. William T. Watson, a tent preacher from North Carolina, and pastor of a large Christian and Missionary Alliance church in St. Petersburg felt the Lord leading him to establish a Bible college for the training of Christian workers. Following God's call, he founded Florida Bible Institute in 1932, changing the name to Trinity College in 1947. Little did he realize when he started the College that a young man, Billy Graham, who would enroll in 1937 and graduate in 1940, was destined to become one of the great evangelists in the history of the church, although Dr. Graham is the College's most famous graduate, he is but one of many in the past years who have gone on from the College to serve the Lord all over the world, and in many different roles.
Equipping the Called
Originally focused on training pastors and missionaries, the College has expanded its course offerings over the years to include worship ministry, youth ministry, elementary education, psychology, general studies, and business organizational leadership. An important characteristic of the College has always been its distinctly evangelical, but interdenominational, nature. At Trinity, students from a wide variety of church backgrounds have the opportunity to study God's Word and be equipped to serve Him in an atmosphere of respect. In a world where interdenominational cooperation among evangelicals is becoming increasingly vital, Trinity College of Florida believes this type of education best serves its students as they prepare to live and serve more effectively. A major milestone in the life of the College was achieved in 1996 when Trinity was accredited by the Association for Biblical Higher Education.
Trinity College of Florida provides a biblically-centered education, equipping servant leaders for life and career opportunities. The goals for achieving this mission are:
1. Spiritual – To orient, motivate and lead students to Christian maturity and spiritual depth.
2. Academic – To engage students with opportunities to integrate Biblical faith and learning.
3. Intellectual – To develop in students the ability for critical analysis and to motivate in them a desire for continuing intellectual pursuits.
4. Professional – To produce graduates competent in the area of their professional training.
5. Social – To cultivate a culture that redefines how we learn, love, and live in a way that honors God, impacting our community for generations to come.
The vision of Trinity College of Florida is to be the premier provider of Biblically-focused, multifaceted, and diversified higher learning to fulfill the Great Commission in life and career. Trinity College believes that the Bible should be at the heart and core of all training and that it is the standard for evaluating all claims to knowledge. The Bible, as the inspired Word of God, is instrumental in thoroughly equipping God's servants for ministry. This philosophy is reflected in the wide range of Bible and theology courses offered. The College believes that the Bible is the only framework within which a consistent, effective, and productive world, view, lifestyle, and life of service to God and humanity can be maintained.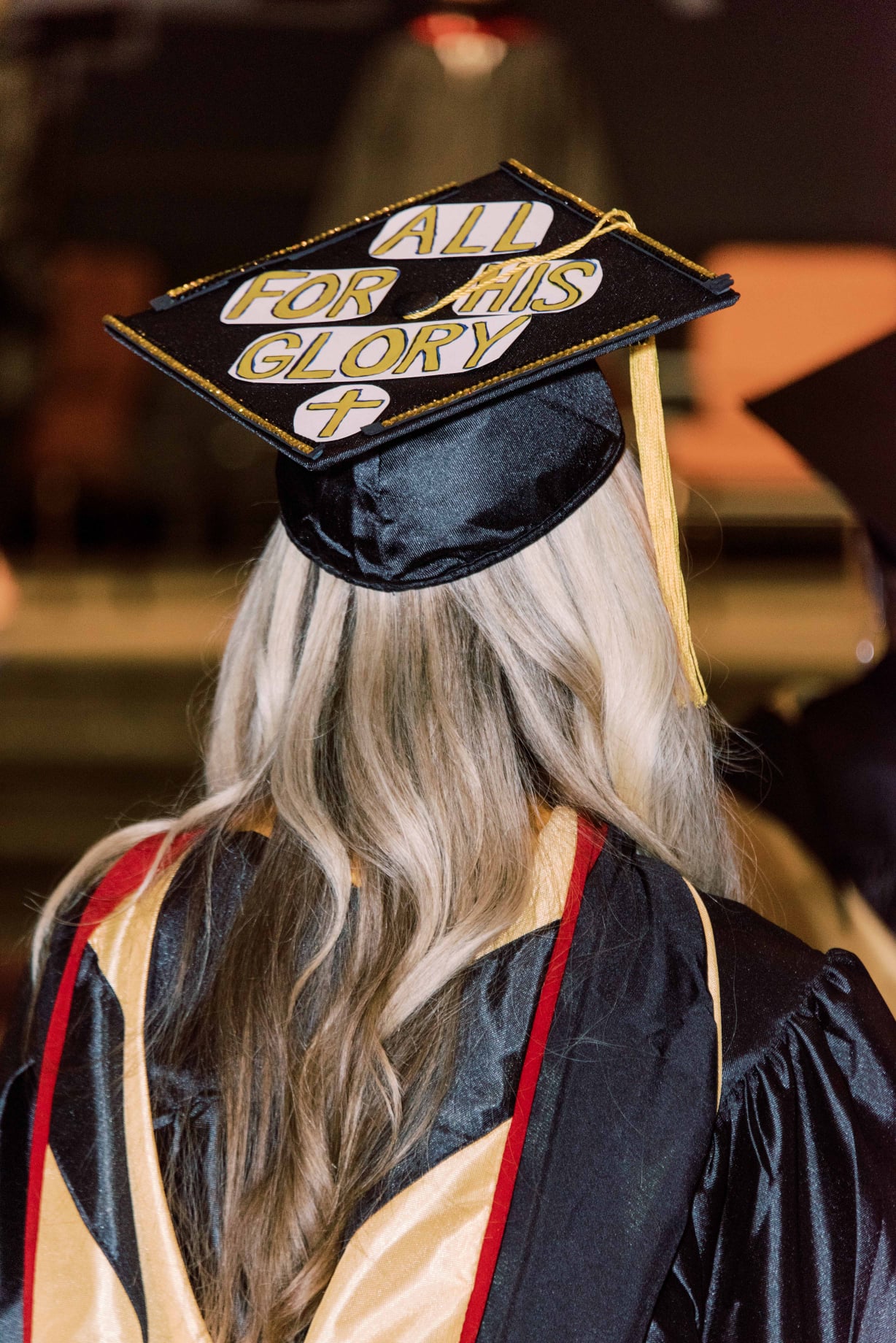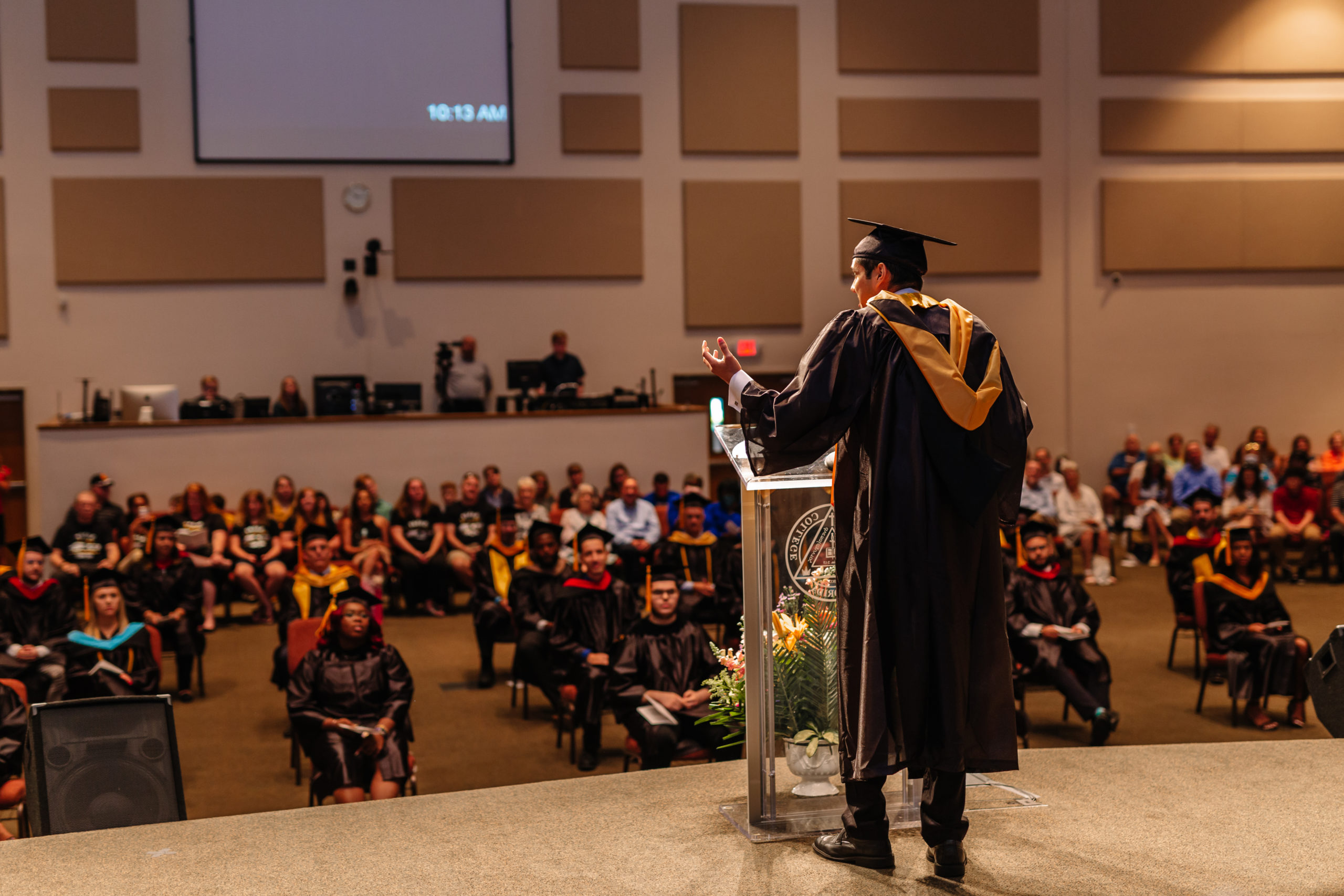 We believe the Scriptures of the Old and New Testament are verbally inspired by God, inerrant in the original writings, and that they are the supreme and final authority in faith and life.
We believe in one God, eternally existing in three persons, Father, Son and Holy Spirit.
We believe that Jesus Christ was conceived by the Holy Spirit and born of the Virgin Mary and is true God and true man.
We believe that man was created in the image of God, but that he sinned and thereby incurred not only physical death, but also spiritual death which is separation from God.
We believe that the Lord Jesus died for our sins according to the Scriptures as a representative and substitutionary sacrifice, and that all who believe in Him are justified on the ground of His shed blood and adopted into God's family as His beloved children.
We believe in the present ministry of the Holy Spirit by whose indwelling the Christian is enabled to live a godly life, and by whom the church is empowered to carry out Christ's great commission.
We believe in the resurrection of the crucified body of our Lord, in His ascension into heaven, and His present life there for us, as High Priest and Advocate.
We believe in "that blessed hope," the personal, pre-millennial and imminent return of our Lord and Savior Jesus Christ.
We believe in the bodily resurrection of the just and the unjust, the everlasting bliss of the saved and the everlasting conscious suffering of the lost.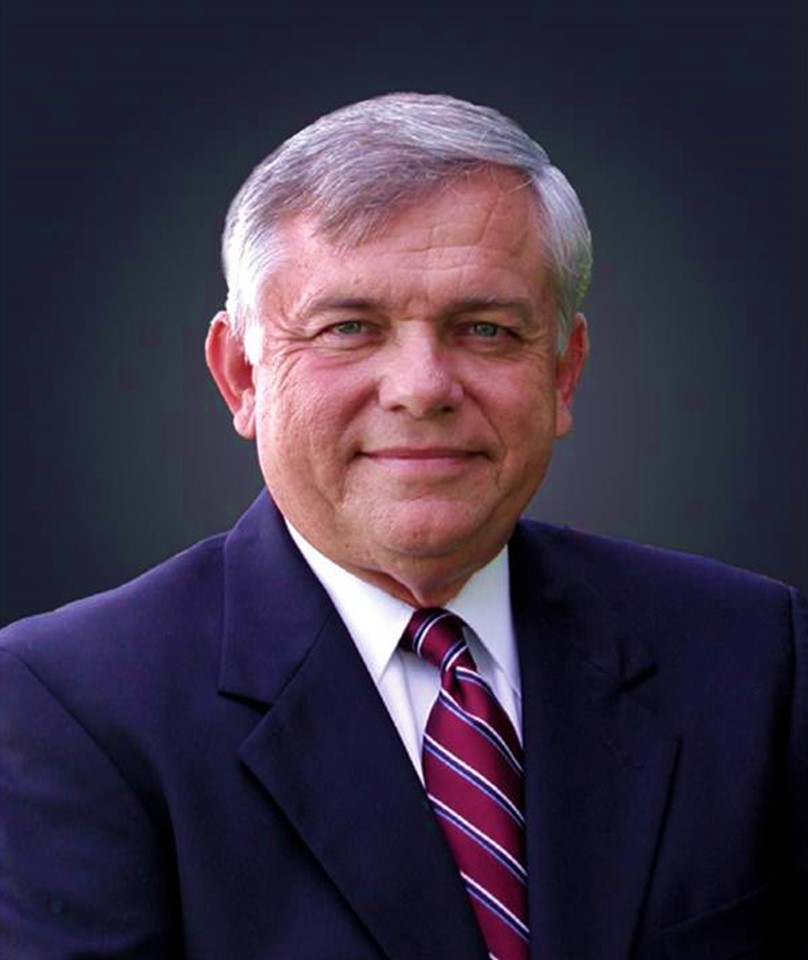 Discovering, Discerning, Developing, Deciding
The words above describe the journey you will enjoy at Trinity College of Florida! You will discover amazing truth in God's Word and the life He has given you. His truth will transform your character and activities. You will be able to discern and make decisions that will honor Him and generate abundant satisfaction and fulfillment for you. In addition, the relationships you establish in and outside the classroom at Trinity will be a blessing to you for the rest of your life! Your personal development will be seen intellectually, socially, emotionally, and most of all, spiritually. You will become the person God intended you to be! You will discover God's mission for your life! What an amazing journey … Discovering … Discerning … Developing … making Decisions in life that will be the best!
Continuing in the passion for higher biblical education for more than 88 years as a college, we treasure the Word of God as the Book for guidance and fulfillment in this life. Our founder, Dr. W. T. Watson, possessed a strong passion to provide an educational experience that would transform the student into a servant leader for Kingdom ministry! This pursuit continues today with the educational excellence of our faculty to the sacrificial commitment of the staff. Remember the challenge God gave Jeremiah: Call to Me, and I will answer you, and show you great and mighty things, which you do not know. Experience this reality in the classroom, on campus, and in service for the Lord! The discovery of the "great and mighty things" awaits you! Come and join the adventure of becoming a transformational servant of the Most High, commissioned to influence and impact the 21st century for the glory and honor of the Lord Jesus Christ!
Mark T. O'Farrell
President
Trinity College of Florida
On-Going
Mission.
Lasting
Legacy.
Answers to Your Questions About Trinity College of Florida
Our admissions team is here to guide you in the process of enrollment. We believe that every student that enrolls to become part of the Trinity family, God calls. Our mission is to equip you for your calling, to advance in every context of life. We look forward to connecting with you.