A Christmas Greeting . . . Not to be Forgotten!
We are living in a world of challenge, change, and even chaos. Surprises every day appear on the agenda. The unexpected and the difficulties are present regularly. One becomes unsettled and suspicious … Now What? Frustration and even despair may sweep in suddenly. What is a person to do, think, and even feel with "wokesim" and critical race theory appearing in 'safe places?' A list of weird and even evil concepts charge into one's life with speed and furiousness  . . . And It Is Christmas!!
I have very Good News for you!
God is never confused and unaware of these unimaginable challenges. He has a message for us during the Christmas Season of Contemplation and Celebration. These are the first words that embraced Joseph in Matthew 1:20, Zacharias in Luke 1:13, Mary in Luke 1:30, and the shepherds in Luke 2:10. It was a 'Christmas Greeting' leading to a wealth of promised blessings for all mankind. It was a Christmas announcement leading to other Christmas Greetings of fulfilled prophecy and 'gifts' beyond measure.
We need to hear this greeting, feel this greeting, and joy in this greeting! We need to build on this greeting!
Our Lord knows how we feel and what we need to know and do before the 'treasure and wealth' is revealed to us. Are you ready for the Greeting leading to other greetings that must never be forgotten? Here it is: Do Not Be Afraid!
As this expression was divinely shared with people about to experience the remarkable arrival of the King of kings and Lord of lords, God wanted His people to not be afraid, to not be fearful! All is Well! He is in Control! He wanted them to listen and see what He was doing in their midst.
It is the same for today! Do not be afraid of all the 'tidings' of confusion, notes of 'mumbo jumbo,' and threats of harm and hurt. God is doing something in our midst … let us not miss this! He is doing something in your presence for YOU! Don't miss this! It is 'good tidings of great joy!'
Christmas is about God's Gift to mankind: Jesus!
He is the Gift of gifts! Do not be afraid … simply look to Him. Listen to Him. Learn from Him. Lean into Him. Lead with Him! Never forget that He does not want us to be fearful in the midst of this world and strange cultural shifts. Peace, Hope, and Joy are YOURS. Let Him Speak to YOU! And here is His Message leading to all messages for you: "… Do not be afraid, for behold, I bring you good tidings of great joy which will be to all people. For there is born to you this day in the city of David a Savior, who is Christ the Lord." Luke 2:10-11 NKJV
A Christmas Greeting not to be Forgotten: Do Not Be Afraid! He has much to share with you so that you can share with others!
Read the full issue of December President's Circle PDF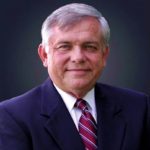 Dr. Mark O'Farrell
College President
The President's Circle