Bachelor of Arts in Theology
Advanced skills in biblical studies, translation, interpretation and biblical Greek.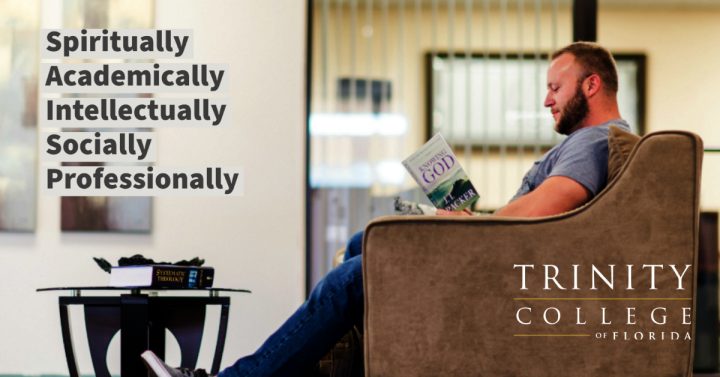 Theological Studies
The Theology major is designed for students who are seeking an intensive undergraduate theological and biblical studies education. This major would be appropriate preparation for those interested in studying theology or biblical studies at the graduate level, for those interested in graduate-level studies in any one of the humanities, or for individuals anticipating attending seminary.
The Unique Value
Students who graduate with a Bachelor of Arts degree receive a double major in Bible along with their major. There is an energizing momentum that builds as you pursue your education here, and you leave equipped to act on God's calling to advance the Gospel wherever you may go. The TCF advantage, advance into your career and life ministry to make disciples.
Meet Your Academic Advisor
Program Director
As the Program Director for Bible and Theology Department, Dr. Parsons will be available to you and will be your academic advisor throughout your entire program for Bachelor of Arts Theology.
Education
Stuart E. Parsons (MDiv, Western Seminary; S.T.M. and PhD, Dallas Theological Seminary) has taught Bible, ancient Greek, church history, and theology at Trinity College of Florida since 2006.
Purpose
Students successfully completing the Theology B.A. program will demonstrate:
1. Advanced knowledge of biblical studies.
2. Knowledge of the history of Christian thought.
3. Advanced skills in translation and interpretation of biblical Greek.
U.S. BUREAU OF LABOR STATISTICS
Office of Occupational Statistics and Employment Projections
Degree Requirements
Course Structure
I. General Studies Courses – 39 Credits
II. Bible and Theology Foundational Courses – 54 Credits
III. Major – 30 Credits
Total Required Credits – 123 Credits
Core Courses
Choose one: Biblical Ethics,  Contemp. Issues in Theology and Ethics,  C.S. Lewis: Apostle to the Skeptic,  Contemporary Ethical Issues,  Managing Ethics in Organizations,  or Theology of Sanctification.
Choose one: Fundamental Issues in Worship,  Sacred Actions and Sacramentality,  Music and the Arts in Christian Worship,  Philosophy and Theology of Worship, The Church Year, Art and Architecture in Christian Worship,  Images of Christ: The History & Christology of Religious Art & Film  or History of Worship in the Church.
Concentration Courses
Major Electives* (6 credit hours)
See the suggested course schedule below
Answers to Your Questions About the Bachelor of Arts Degree in Theology