"Starting at a small Bible school in Florida…" President Trump
On the day Billy Graham passed away, the news was texted to me by my sister Kathy, and immediately a flood of emotions hit me. I was at my desk taking attendance at the small Christian school I worked as a Bible and history teacher. I had to ask another teacher to watch my class as I stepped out to regain my composure. At that moment, I felt the presence of this man's testimony in my life personally. I know I am not unique to this experience because, like me, there were millions of people impacted by him who felt it too. There were two heroes in my house growing up, my father Albert, and Billy Graham. In 1998 on a camping trip, my father told me the story of how he had knelt in front of the television in our farmhouse in Weedsport New York while watching the Billy Graham London Crusade in 1966. That one act, dad kneeling, receiving Christ, changed the course of history for my family, the impact of that moment is forever the most important moment in our family's history. I watched online as the President of the United States eulogized Graham in the Capitol building, he began with "Starting at a small Bible School in Florida" There it was, as an alumnus of Trinity College of Florida, my heart felt that moment.
The Florida Bible Institute
When Billy Graham attended Trinity, it was called the Florida Fundamental Bible Institute. Because of his connection, many students have sought to follow the path of the great evangelist by attending Bible college. When I came to Christ on September 11, 1994, I too sought out Trinity College to attend because of Graham's impact on my family.  During the President's eulogy of Graham, he testified about how he and his father attended a Graham crusade when he was a child with his father. I related to that, and I too remember my dad taking me to see Graham in Tampa. On the day my dad and I attended, Johnny and June Carter Cash were there, singing Gospel songs. June even mentioned Green Key, where they had gone fishing a few days before with the Grahams. Many times I have fished at those same spots, there with my dad and later my children. I can picture Billy and Johnny out there casting in the same spots, just near the stilt houses.
A Hopeless Moment In Time
The deep connection of why I felt the loss of Billy goes back to another day, September 7, 2001, the day we found out our unborn child had spina bifida. My wife was five months pregnant; we were considering naming him James because we wanted to have all J letter names for our kids, I liked the name James, and she did too, and it was a good Bible name. However, that terrible Friday, my wife wept bitterly, terrified of what to do because that day the geneticist from USF told us to terminate the pregnancy, our unborn was to be born severely disabled. Friends and family all chimed in, and some asked, "is it right to bring a handicapped child into the world?" The other side was, "abortion is always murder…" We both were and are pro-life, but the questions came at us anyways, it was agony. That night I went out to the mailbox at dusk, in our mailbox was a Decision magazine.
The transcendence of this moment did not escape me, that magazine was addressed to my late mother who had passed two years prior. I had never received a Decision magazine before that, or after that one. As I stood there by the mailbox, I looked at the cover of that magazine; it was a picture of a storm on the ocean with the caption, "Peace in the storms of life" by Billy Graham, based on Joshua 1:9. When I came into the living room and showed it to my wife, she immediately agreed, our child would be named Joshua. A decade later, my other son Johnny would carry that verse in Joshua 1:9 on his dog tags when he was deployed to Afghanistan as part of the troop surge in 2010. "Have I not commanded you? Be strong and courageous. Do not be afraid; do not be discouraged, for the LORD your God will be with you wherever you go." Joshua 1:9. The message of hope and peace Graham has brought to my family is unmeasurable.

Nothing is More Authentically Powerful than Hope
"At a small Bible school in Florida" is where Billy Graham received his call to bring the message of hope not just for the whole world, But my little place in the world too. It is still a small Bible school in Florida, everyone who comes on campus passes a large granite stone from the Gospel Tabernacle where it all began, assuredly, Graham passed that stone, thankfully, somebody had the sense to bring it to Trinity, what is inscribed on that stone, almost a hundred years ago is still the same reason we are here, "Jesus Christ himself being the chief cornerstone" Eph. 2:20. Although the name has changed, there are more programs now, the hope of the Gospel Billy preached, that is still the cornerstone of this small Bible school in Florida, there is nothing more powerful in this world than hope.
_____________________________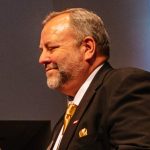 John Keller graduated from the Quest Program at Trinity College of Florida in 2013 with a Bachelor degree in Counseling. He then went to Liberty University for his M.A. He currently serves as the Brand Ambassador and Quest Coordinator at Trinity College of Florida.