Academic Catalog | President's Message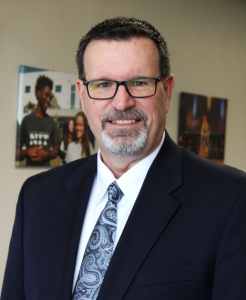 With great pleasure, the Board of Trustees of Trinity College of Florida announces its unanimous selection and appointment of Reverend Stephen Paul Best as the College's Ninth President Following Dr. Mark O'Farrell's announced retirement after eighteen years as President of Trinity College and his being named the College's first President Emeritus – A Presidential Search Executive Committee was established by the Board over a year ago and announced throughout the United States. Over 22 candidate applications nationwide were received and vetted, including in-person interviews.
Rev. Best brings Trinity outstanding acumen and successful ministerial, educational, business, resource development, and advancement experience. He holds a B.A. Degree in Speech Communications from Cornerstone University, Grand Rapids, MI, and a Master's Degree in Religious Education from Liberty Theological Seminary of Liberty University, Lynchburg, VA. He was ordained by the leadership and membership of First Baptist Church, Blanchester, OH. He has also served on the Trinity Adjunct Faculty as an Intercultural Studies and Pastoral Ministry Leadership instructor since 2020. Rev. Best has been serving as the College's Interim President for the past five months. As Interim President, he has demonstrated exceptional aptitude in organizational leadership, ideation, vision for the college, and a strong and abiding faith in our Lord and Savior.
He and his wife, the former Terri Jo Tedder, have been married for 43 years. Terri is the daughter of the late evangelist, pastor, and alumni of Trinity, Dr. C. Alphon, and his wife, Jane Tedder. The Bests have four adult children and thirteen grandchildren. As Trinity enters its 91st year, the future of Christian education certainly holds challenges. However, we have never been more encouraged and excited. We are grateful to our Lord for His faithful and steadfast direction. We have confidence in Rev. Best's ability and commitment to lead the College as our new President as we continue to expand, grow, and impact the world for Christ.
Serving Him Together,
Board of Trustees