Certificate in Apologetics and Christian Evidences
Biblical training that allows the gospel to inform your life.
Apply Now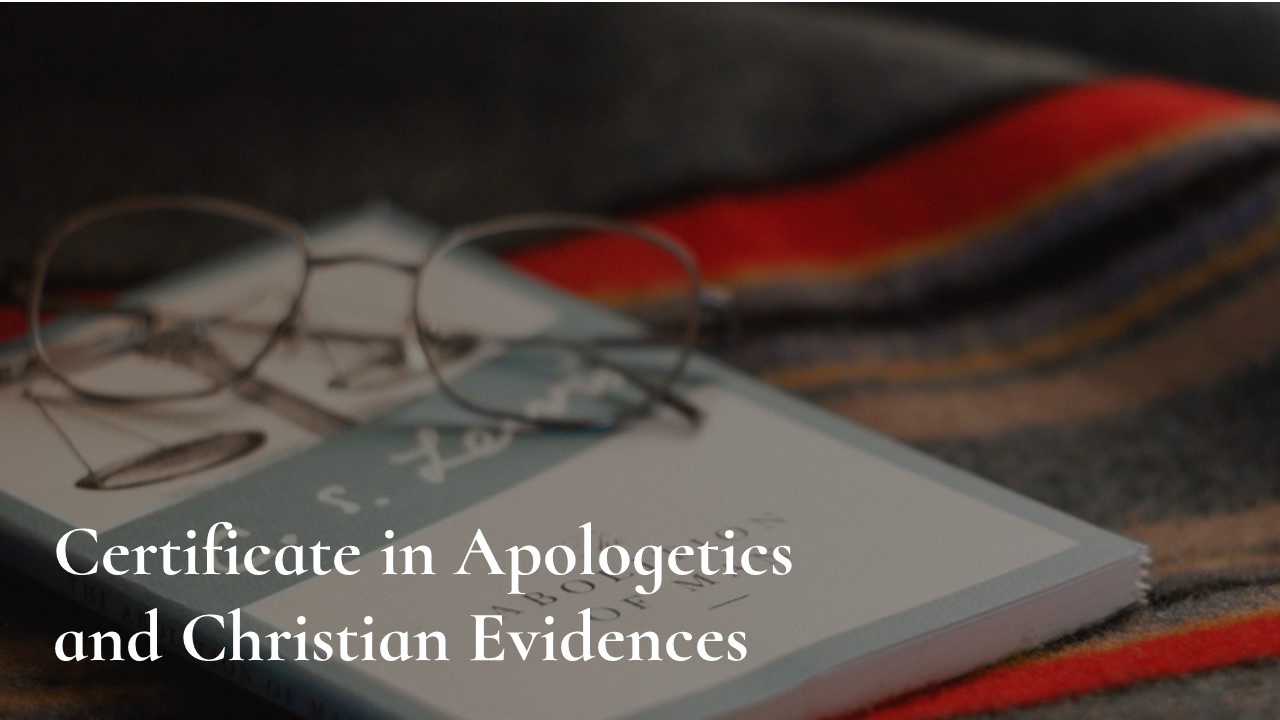 Apologetics and Christian Evidences
The Certificate in Apologetics and Christian Evidences is for students who wish to be equipped to deal with the philosophical and theological issues that increasingly arise in evangelism and missions directed to atheists or those who hold to other major world religions. Students in this certificate should connect with the C.S. Lewis Society (housed at TCF) and Apologetics.org
Meet Your Academic Advisor
Program Director
As the Program Director for Bible and Theology Department, Dr. Parsons will be available to you and will be your academic advisor throughout your entire program for Associate of Arts in Biblical Studies.
Education
Stuart E. Parsons (MDiv, Western Seminary; S.T.M. and PhD, Dallas Theological Seminary) has taught Bible, ancient Greek, church history, and theology at Trinity College of Florida since 2006.
Choose 4 courses from the following options:
Answers to Your Questions About The Certificate in Apologetics and Christian Evidences
All of the following requirements must be met in order to receive a Certificate in Apologetics and Christian
Evidences from Trinity College:
1. Completion of at least 18 credits in residence at Trinity College.
2. Satisfactory completion of a minimum of 21 semester hours with at least a 3.0 cumulative grade point average.
3. Satisfactory completion of all requirements of the Certificate of Apologetics and Christian Evidences curriculum.
4. Continued evidence of a consistent genuine Christian testimony.
5. Continued essential agreement with the Doctrinal Statement of the College.
6. Satisfactory fulfillment of all financial obligations to the College. No certificate will be granted or transcript provided to a student with an outstanding financial obligation to the College.
7. Affirmative recommendation for graduation by the faculty, Vice President for Academic Affairs, and the Board of Trustees.
* This certificate is available to degree seeking students and is not licensed by the Commission for Independent Education.
Trinity College of Florida is accredited by the Commission on Accreditation of the Association for Biblical Higher Education, an institutional accrediting body recognized by the Council on Higher Education Accreditation and the U.S. Department of Education.
Database of Accredited Postsecondary Institutions and Programs (U.S. Department of Education database)
APPROVALS:
– Licensed by the Commission for Independent Education, Florida Department of Education. Additional information regarding this institution may be obtained by contacting the Commission at 325 West Gaines Street, Suite 1414, Tallahassee, Florida 32399-0400, toll-free telephone number (888) 224-6684.
– Trinity College is authorized under Federal law to enroll nonimmigrant alien students, and
– United States Department of Education for Federal Pell Grants and other Federal financial aid programs, and
– Approved to enable the certified veteran to gain financial supplement for education.
MEMBERSHIPS:
– American Association of Collegiate Registrars and Admissions Officers (AACRAO)
– Association of Business Administrators of Christian Colleges (ABACC)
– Association of Christian Schools International (ACSI)
– Council of Higher Education Accreditation (CHEA)
– Evangelical Council for Financial Accountability (ECFA)
– Florida Association of Christian Colleges and Schools (FACCS)
– Florida Association of Student Financial Aid Administrators (FASFAA)
– National Association of Independent Colleges & Universities (NAICU)
– National Christian College Athletic Association (NCCAA)
– Tampa Bay Library Consortium (TBLC)
Every college and university has the right to decide what credits they will transfer in their programs. Trinity College uses the (SCNS) Numbering System. This numbering system is used by all public postsecondary institutions in Florida and by participating non-public institutions. The major purpose of this system is to facilitate the transfer of courses between participating institutions. Students and administrators can use the online SCNS to obtain course descriptions and specific information about course transfer between participating Florida institutions.
Getting information and making your college decision can be difficult. We are happy to walk you through everything from enrollment to the financial aid process.