Bachelor of Arts Ministry Major
Intercultural Studies Concentration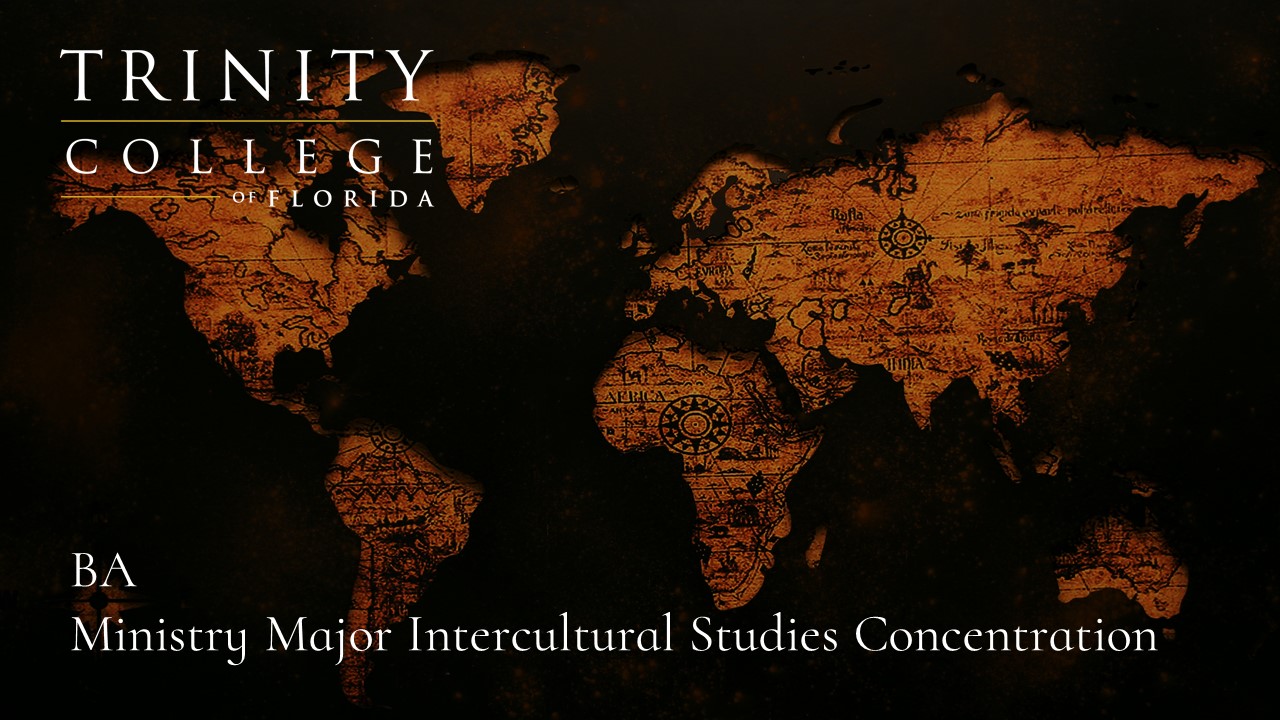 The B.A. in Ministry Major provides the student with the academic and professional preparation necessary for ministry
Program Outcomes/Goals
Students will have a professional readiness to deliver Biblical knowledge.
Students will have a well-articulated Christian world view of life and ministry.
A student will display ministry-ready professional skills in the area of  his or her concentration.
Degree Requirements
Course Structure (4-Year Degree)
I. General Studies (39 Credits)
II. Bible (48 Credits)
Ill. Major (36 Credit)
Intercultural Studies Core Courses: (18 credits)
Church Planting and Development 3
Cross Cultural Communication 3
Cross Cultural Communication Practicum 3
Intercultural Ministry Internship 3
The strategy of Missions 3
Urban Ministry 3 Major/Ministry Electives (78 credits) Select 6 courses from this list:
Bible Elective 3 (3000 level or higher)
Business Organizational Leadership Elective 3
(any level, one course only)
Christian Leadership 3
Contemporary Issues in Theology and Ethics 3
Fundamental Issues in Worship 3 Introduction to Counseling 3 Introduction to Preaching 3
Marriage and Family Communication 3
Small Group Development 3
See below – suggested four-year schedule
Total Credits 123
Occupational Outlook

Bureau of Labor Statistics, U.S. Department of Labor, Occupational Outlook Handbook, Field of degree: Theology,
at https://www.bls.gov/ooh/field-of-degree/theology/theology-field-of-degree.htm
Trinity College of Florida is accredited by the Association for Biblical Higher Education Commission on Accreditation (5850 T. G. Lee Blvd., Ste. 130, Orlando, FL 32822, 407.207.0808) to grant certificates and degrees at the Associate and Baccalaureate levels.
Meet Your Academic Advisor
First Year Fall Semester – 15 credits
*This can be a Bible or Theology class or a 3000 level course or higher in any major. ** Or GNMN 3311, Small Group Development Following Admissions Assessment, the following courses: BIBL 1101 Basics of Biblical Living (Fall), BIBL 1102 Christian Belief and Scripture (Spring) may be required during the freshman year in lieu of Bible/Theology electives. Adjustments will be made to satisfy all other course requirements of the degree.
Answers to Your Questions About the Bachelor of Arts Ministry Major Intercultural Studies Concentration
Earning your BA is a great place to begin your professional ministry journey and prepare for pastoring, seminary, or whatever ministry context God has called you to serve. 
Yes! Although many people think they can't afford to go to college, a large percentage of students receive some type of financial assistance, including our degree completion students. Our financial aid representatives are ready to help you sort through the different types of financial aid and show you how to get the assistance available to you.
Yes. Trinity College of Florida is accredited by the Commission on Accreditation of the Association for Biblical Higher Education, an institutional accrediting body recognized by the Council on Higher Education Accreditation and the U.S. Department of Education.
Database of Accredited Postsecondary Institutions and Programs (U.S. Department of Education database)
APPROVALS:
– Licensed by the Commission for Independent Education, Florida Department of Education. Additional information regarding this institution may be obtained by contacting the Commission at 325 West Gaines Street, Suite 1414, Tallahassee, Florida 32399-0400, toll-free telephone number (888) 224-6684.
– Trinity College is authorized under Federal law to enroll nonimmigrant alien students, and
– United States Department of Education for Federal Pell Grants and other Federal financial aid programs, and
– Approved to enable the certified veteran to gain financial supplement for education.
MEMBERSHIPS:
– American Association of Collegiate Registrars and Admissions Officers (AACRAO)
– Association of Business Administrators of Christian Colleges (ABACC)
– Association of Christian Schools International (ACSI)
– Council of Higher Education Accreditation (CHEA)
– Evangelical Council for Financial Accountability (ECFA)
– Florida Association of Christian Colleges and Schools (FACCS)
– Florida Association of Student Financial Aid Administrators (FASFAA)
– National Association of Independent Colleges & Universities (NAICU)
– National Christian College Athletic Association (NCCAA)
– Tampa Bay Library Consortium (TBLC)
Getting information and making your college decision can be difficult. We are happy to walk you through everything from enrollment to the financial aid process.