BY CHARLIE MARTIN: Trinity College of Florida made a great impact on my life and my pastoral ministry at Indian Rocks Baptist Church. My story begins when I was a 16-year-old boy at my home church in El Dorado, Arkansas. A Trinity Student visited our church and brought a catalog with Billy Graham's picture on the front cover. My Sunday school teacher knew that I had been praying for God's will and where I should go to study for the ministry. My parents brought me to see the school, which, at the time was located in Clearwater, Florida. Dr. W.T. Watson met with us and walked us around the campus. The Lord directed my steps and the following year after graduating from High School, I moved to Clearwater to attend Trinity College of Florida.
I got off to a rocky start, but four years later I graduated and left to go home to Arkansas. I took a position as a church staff member working with youth. After almost four years, God was stirring in my heart to preach. I preached across the south and a one-week revival at First Baptist Church of Indian Rocks. We had a great week and it opened a door for me to begin my pastoral ministry. I was called by Indian Rocks on the first Sunday of May 1971. On my first Sunday, we had 79 people in Sunday school and 91 in the Worship Service. Through the past 36 years, our membership has grown to over 6,000 with an average attendance of 3,000 each weekend. We are so grateful for God's blessing; He has been so good!
Trinity College of Florida gave me the training I needed to serve the Lord. The teachers at Trinity poured themselves into the students. They gave us the tools that prepared us to pastor. I have enjoyed my relationship with Trinity and have referred many young people there. My wife and I support Trinity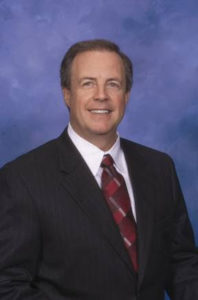 College of Florida financially and prayerfully. We are excited to watch the Lord continue to work through Trinity College of Florida, preparing students to go out and reach the world for Christ.
Dr. Charlie Martin (1967)-this article first published in Connection Magazine, Spring of 2007. Charlie Martin is currently serving as senior pastor at Bethel Baptist Church in Vilas North Carolina.