Rediscovering Joy
BY DR. DENNIS COX
"Joy is the feeling of grinning inside." Melba Colgrove
Joy always feels natural. It comes on easily but only under unusually wonderful circumstances. Like love, joy is something everyone wants but no one can hoard. It must be discovered but looking for it is useless. You don't find it. It finds you. You set the table and it comes for dinner; uninvited and welcome. There are many ways to prepare for joy and all of them have to do with noticing and appreciating, if even for a few seconds, the beauty, excitement, or pleasure in an experience past, present, or future. In the Old Testament, the holidays and festivals were almost always accompanied by celebrations, feasting, and reflection. Every year was punctuated by the reminders of God's blessing and provision. For instance, this is how God described The Feast of Booths in Deuteronomy 16:15; "For seven days you shall keep the feast to the Lord your God at the place that the Lord will choose, because the Lord your God will bless you in all your produce and in all the work of your hands, so that you will be altogether joyful."
"Joy is not in things; it is in us." Richard Wagner
Joy seems to come to all people sometimes but visits some people more often than others. Why? Because they tend to look for and celebrate the good in whatever they are involved with. Celebration is both an expression of and an invitation to joy. The Psalms are filled with expressions of joy and gratitude for everything from who God is to what He does. In Psalm 84:2, the psalmist sings "My soul longs, yes, faints for the courts of the Lord; my heart and flesh sing for joy to the living God." It is hard to ponder those words for very long without coming dangerously close to the feeling of joy. Worship, whether alone or as part of a church, can and should teach and enable joyful gratitude to God. And we can learn to notice beauty and goodness and appreciate the gifts of God and others even when we are suffering. In the upper room shortly before his arrest, Jesus told his disciples, "As the Father has loved me, so have I loved you. Abide in my love. 10 If you keep my commandments, you will abide in my love, just as I have kept my Father's commandments and abide in his love. 11 These things I have spoken to you, that my joy may be in you, and that your joy may be full"(John 15:9-11). On the eve of his own crucifixion, Jesus spoke of His joy becoming ours. That joy obviously comes from the beauty, power, and potential of God's plan for and relationship to His children, not the upcoming crucifixion. Joy is natural, but not always easy.
"Joy is increased by spreading it to others." Robert Murray McCheyne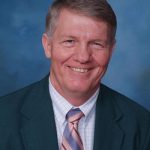 The late Dr. Dennis Cox was the Vice President of Academic Affairs at Trinity College of Florida, he went home to his home heaven in 2021. He obtained his Bachelor's degree in Music Education and his Master of Divinity degree from Trinity College and Trinity Evangelical Divinity School in Deerfield, Illinois. After starting and pastoring a church for nearly ten years, he went on to obtain both his Master's and Doctoral degrees in Interpersonal Communication from the University of South Florida. He and his wife, Sharon, had 3 children and 5 grandchildren.