Colonel Charlies Massey
Student Group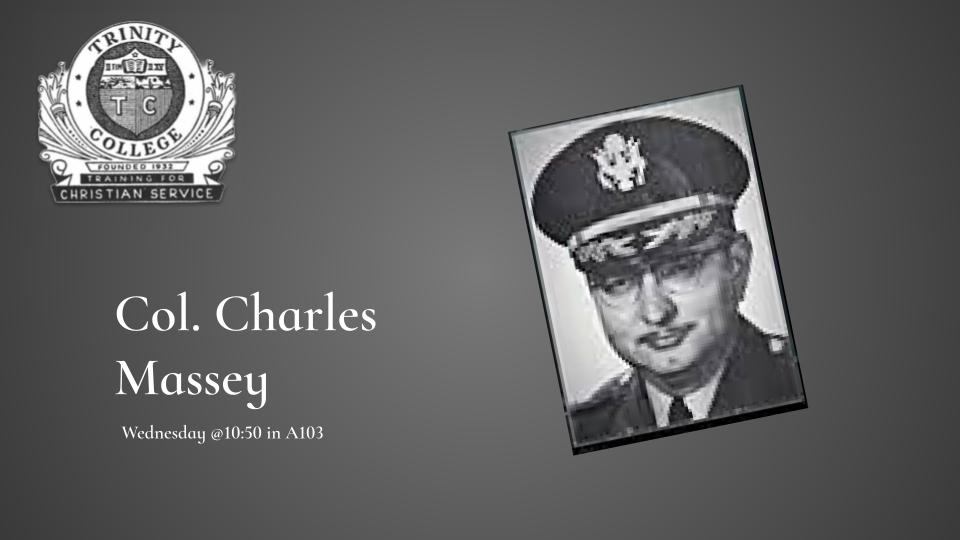 Participation – Military (active, inactive, Guard and Reserves), Veterans, Dependents and Family Members of Military/Veterans as well as those who simply wish to honor veterans, military and their families.
Purpose – The purpose of the Col. Charles Massey student group is to connect military, veterans and their dependents; personal ownership-discipline (training),  service, and fellowship.
Personal Ownership – Members will embody the warrior ethos of "leave no one behind."
Massey Honor Code: Participation in the Massey student group is for individuals who will seek to chase excellence and allow accountability in each area of life:
Spiritually (Spirit) Prayer, devotion to Scripture
Physically (body) exercise, healthy eating, personal appearance
Intellectually (mind) Continually setting one's mind on truth
Faculty Sponsor: John Keller
Student Group President: Tyler Sawyler
Interview with 2021 group president, Steve Stewart
Joining Student Groups is a great way to get involved on campus. Whether your motivation is to make a difference, make friends, or just have fun, our student groups offer a variety of events and activities. Groups vary each year, but always have one thing in common–bringing like-minded students together. Get involved on campus by joining a student group!
Participate in Christian Service
Students transform as they network and develop their ministry skills through our various hands-on Christian Service opportunities. Our Christian Service program involves weekly participation in a specific ministry. It provides an opportunity to give practical expression to what you are learning in the classroom. You'll gain useful experience, spiritual growth, maturity, and practical skills. This is your opportunity to go into your church and community and change lives for Christ!
Biblical
Teaching.
Authentic
Fellowship.
Engaging
Worship.
Visiting our campus is a great way to get a feel for what Trinity College is like. Take a tour with an admissions representative and gain clarity on your future.